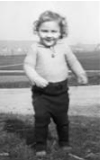 Geboren in 1942, werd Dirk's enthousiasme voor de fotografie al vroeg aangewakkerd door zijn vader, wijlen Wim Visbach. Al op jonge leeftijd kreeg hij zijn eerste fotocamera waarvan er nog veel zouden volgen.

Dirk ontwikkelde eveneens een sterke liefde tot de natuur en legde deze veelvuldig vast op de gevoelige plaat. Deze ontwikkelde liefde voor de natuur en zijn passie voor de fotografie resulteren al jaren in de mooiste foto's van de schitterendste plekjes die onze aarde rijk is.



Born in 1942, Dirk's enthusiasm for photography was already early initiated by his father, the late Wim Visbach. At a young age he got his first camera of which many would follow.

Dirk also developed a strong and deep love for nature's beauty and tried to show this beauty to others by means of his photos.

This love for nature and his passion for photography resulted in the most beautiful pictures of the most beautiful places on our planet.

Dirk ist geboren in 1942. Seine Leidenschaft zur Fotografie wurde schon Früh durch seinen Vater angeregt. Er bekam schon jung seine erste Kamera und es folgten noch viele.

Dirk entwickelte ein starkes Interesse zur Natur und hat diese demzufolge oft fotografisch festgelegt.

Die liebe zur Natur und seine fotografische Leidenschaft ergeben schon Jahre die schönsten Bilder aus vielen Gegenden unserer Erde.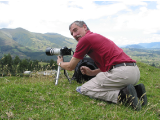 Het was echter pas in 1991 dat Dirk van zijn hobby zijn beroep maakte door als free-lance fotograaf zijn foto's aan te leveren aan het destijds grootste stock agency / - buro van de BeNeLux, Benelux Press. (Een stock agency/buro heeft een groot archief met foto's van verschillende fotografen en verzorgt voor deze fotografen de commerciele afhandeling)

It was not until 1991 that Dirk made from his hobby his profession and became a free-lance photographer making photos for the (at that moment) largest stock agency of the Benelux, Benelux Press. (A stock agency has several photos from different photographers in their database which are used by others to illustrate an article, book or magazine.)




Erst in 1991 fing Dirk an die Fotografie berufsmässig auszuüben indem er als freier Fotograf seine Bilder an Benelux Press (die grösste Bildagentur der Benelux) lieferte. (Eine Bildagentur vermarktet Fotos verschiedener Fotografen).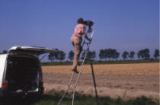 In korte tijd groeide Dirk uit tot de nummer één free-lance stock fotograaf voor Benelux Press.

Tegenwoordig worden zijn foto's vertegenwoordigd door het stockburo 'Hollandse Hoogte'.

Dirk heeft veel gereisd (en dat doet hij nog) waarbij hij de steden en de natuur fotografeerde. Door zijn technische achtergrond heeft hij ook industrie gefotografeerd. Verder heeft hij een belangrijke archeologische vondst (grafveld Ypenburg) fotografisch gedokumenteerd.


Zijn foto's worden veel gebruikt als illustratie voor verschillende tijdschrift artikels, ansichtkaarten en boekomslagen.

Dirk climbed very fast to become the number one free-lance photographer for Benelux Press. Nowadays, the stock agency 'Hollandse Hoogte' has Dirk's photos in their database.

Dirk has travelled all over the world (and still does) to make pictures of cities and the landscape. Due to his technical background he also photographed industry. In 1999 he made the photographic documentation of a large prehistoric cemetery ( graveyard Ypenburg).

His photos are many times used to illustrate various magazine articles, postcards and book covers.




In kurzer Zeit wuchs er zur best verkaufenden Fotograf von Benelux Press. Heutzutage vermarkt die Bildagentur 'Hollandse Hoogte' seine Bilder.

Er hat viel gereist (und tut es noch) um Städte und Landschaften zu fotografieren. Wegen seiner technischen Ausbildung hat er auch Industrie fotografiert. Ferner hat er eine wichtige prähistorische Grabstätte (Ypenburg) fotografisch dokumentiert.

Seine Bilder werden für Zeitschriften, Kalender, Ansichtskarten , Bücher usw. verwendet.